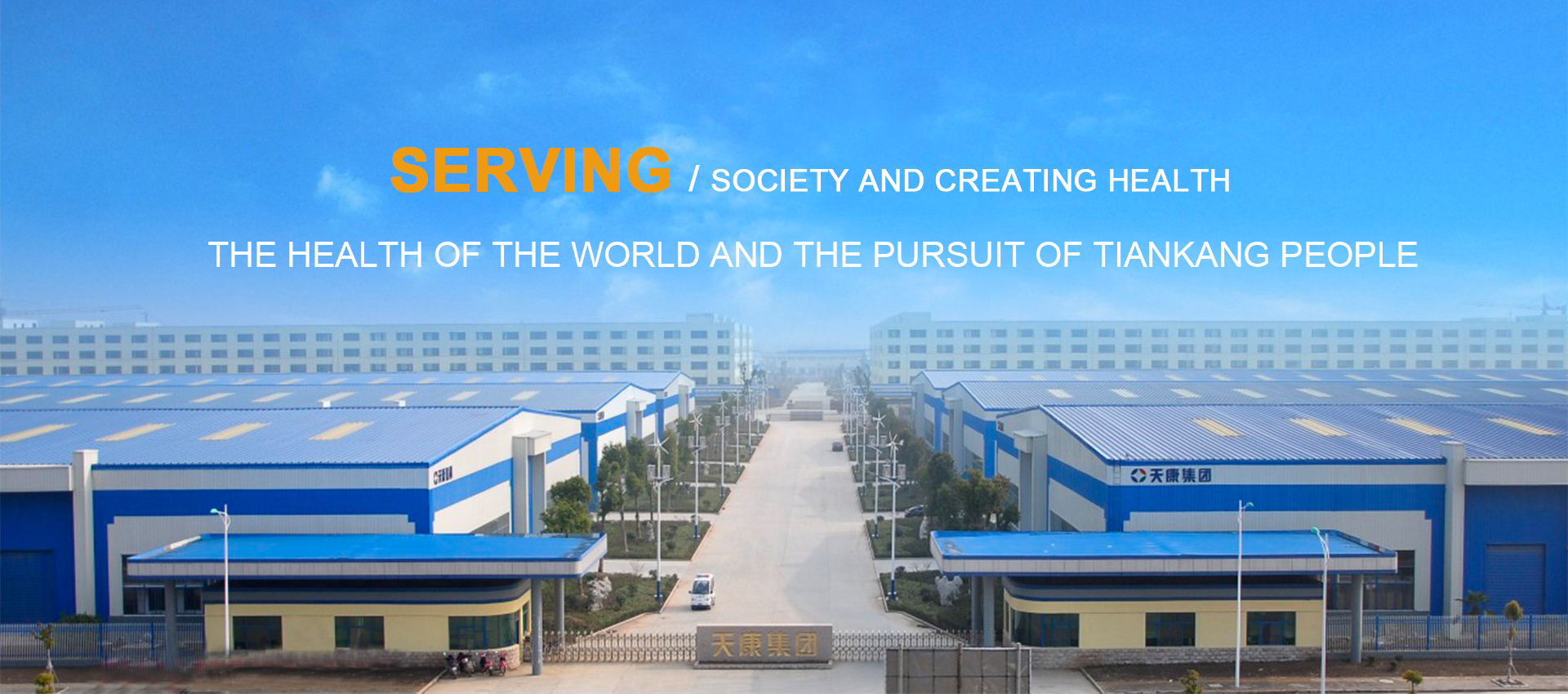 Anhui Tiankang Medicla Technology Co.,Ltd located in Tianchang City which is rated as the pearl of Anhui.It was founded as a subsidiary company of Anhui Tiankang Group in 1999. now we have a registered capital of 57.78 million RMB yuan. We specialize in developing and producing products like safety syringes with retractable needles, auto disable syringes, I.V sets ,T.V sets ,extracorporeal blood circuits for haemodialysers,oral syringes, I.V catheter and intravenous infusion sets with burette etc. And now our company production more than 100 varieties of six series medical consumables products.
Our company has a factory of more than 600 acres holding a large scaled 100,000 class clean workshop 30,000 square meters.And we now have a staff of one thousand one hundred in including 430 technical engineers of middle and high ranges(about 39% of all the staff).Besides,we now have more than 100 first-class injecting machines and affiliated equipments of assembling and packing. We have two independent sterilization equipments and have established the internationally-advanced laboratory for biological and physical tests.
What deserves to be mentioned the most is that we are authorized European CE certificate (in 2002),ISO13485 certificate (in 2002) and WHO—PQS certificate (in 2010) which we hold as passports to enter international market. Our company's products began to be registered with the U.S. Food and Drug Administration (FDA) in 2012 and currently rank among the best in the country for FDA-listed products. Autonomic products: safety syringes with retractable needls which registered by FDA 510 (k), disposable syringes and disposable hypodermic needles also passed FDA registered 510 (k). From June 6 ,2016 to June 9, with zero defect through the FDA field QSR 820 audit at the US FDA site. From September 9 to September 11, 2016, the State Food and Drug Administration carried out a flight check on the company and the inspection passed smoothly.
Our company's products have won orders of domestic large and medium-sized medical institutions and hospitals and they are also sold well aboard;for example,in countries and regions of Europe,Africa and Latin America etc.
The company's syringes of "SAN ZHONG" brand is a famous-brand in Anhui Province, "SAN ZHONG"brand at the same time as Anhui famous trademark.
Since the establishment of the company, relying on the excellent product quality, professional marketing services, tiankang brand value continuously improved, the market continues to expand. At present, we have developed a series of new products that are easy to use, safe and practical, such as disposable sterilized self-destructing fixed-dose vaccine syringes, disposable sterile safety syringes with retractable needles, disposable intravenous needles etc. Once on the market, products have won wide acclaim from healthcare professionals and patients. Disposable auto disable syringes exports ranked first in the United Nations agencies is the only Chinese supplier shortlisted products.
Presently, 35 items of our company have been panted including 4 national invention patents, 7 foreign invention patents, 20 national utility model patents and 1 national appearance design patent which have been confirmed by Anhui Companies Technical Center. Meanwhile ,we are High&New Technology Enterprise and national syringes, infusion standard member.
In response to the international and domestic economic developments, we put forward with high and new technology research and development of high value-added products and sales for the strategic development direction.Our company has been developed fully automatic injection molding units, automated assembly equipment and technological transformation and innovation,so as to change the original features of the traditional labor-intensive enterprises.
We are always working for the health of all the people.To achieve aim of better safeguarding human health and to upgrade care level of our nation, with the aim of "serving the community and creating health",we will work harder and harder.
We will continuously surpass ourselves, and we will build famous brand enterprises at home and abroad.Warmly welcome men of insight home and abroad to join us.And we shall go forward together!